Exchange Program
Introduction
Semester Period:
Fall Semester (August-December)

Deadline of Nomination: February 28th
Deadline of Application: February 28th

Spring Semester (February-June)

Deadline of Nomination: August 31st
Deadline of Application: August 31st
Fees Detail:
Exchange 6 Months*
1. VISA Authorization (Telex VISA): USD 15
2. Electronic Visa (e-VISA): USD 150
3. Limited Stay Permit (ITAS) and Multiple Exit Re-entry Permit (MERP) for 6 Months: USD 123
4. Administration Fee: USD 62
Total: USD 215
Exchange 12 Months*
1. VISA Authorization (Telex VISA): USD 15
2. Electronic Visa (e-VISA): USD 150
3. Limited Stay Permit (ITAS) and Multiple Exit Re-entry Permit (MERP) for 6 Months: USD 192
4. Administration: USD 105
Total: USD 331
*The prices can change according to the calculation of the exchange rate on the day the invoice is issued
Registration Procedures: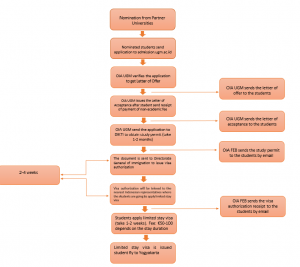 Introduction
Student Exchange Program is a one year program for students from partner universities to get a degree from UGM. The students must be nominated first by their home university. For the semester I (August-January), the deadline of nomination is March 15 and application is March 31; as for Semester II (February-June), the deadline for nomination is August 15 and application is August 31. Students who participate in the student exchange program will receive an academic transcript and certificate of completion at the end of their program.
The required documents are as follow:
Curriculum vitae (resume, personal data)
Admission form, Guarantor Financial Support, Personal Statement (available on the online application)
Student exchange form (available on the online application)
Copies of academic record and diplomas
Nomination letter from applicant's school/institution or recommendation from home university
Recommendation letter from the Indonesia Embassy/Consulate General (if any)
Passport size photographs
A copy of valid passport
Statement of good health from applicant's doctor (available on the online application)
Copy of TOEFL ITP score min. 550/IELTS min 6.0
Online Application
Students nominated by partner universities will be given a user-name and password to log in to our online application website. For further information about online registration procedure, please click here.
Letter of Offer (LO)
Upon receiving your application documents, the Office of International Affairs (OIA) FEB UGM will submit your application in order to obtain the Letter of Offer from the University (UGM). You will receive the Letter of Offer that require you to perform non-refundable service fee payment.
Payment
Once you agree and complete the payment, OIA FEB UGM will request you to email the copy of the transfer receipt. Once the service fee is confirmed by the bank, OIA UGM will proceed with the documents for a Letter of Acceptance (LoA).
Letter of Acceptance (LoA)
Once the service fee is confirmed by the bank, OIA UGM will issue the Letter of Acceptance. OIA FEB will distribute the LoA and other information related to the course offered, academics regulation and student buddies through email.
Study Permit & Visa Authorization
Office of International Affair UGM proceeded the application and documents to the Directorate of Higher Education of Indonesia to receive a study permit. Then, your application will be processed further for visa authorization/approval. This process usually takes at least three to four months to arrange both study permit & visa authorization. The immigration office in Jakarta will send the visa authorization to the requested Indonesian embassy for applying a VITAS (Limited Stay Visa). You must inform the OIA FEB which Indonesian Embassy you prefer for the visa authorization to be sent. You will receive your study permit and visa authorization through email. Once you get the visa authorization, you can apply for the visa at the respective Indonesia Embassy.
Courses Offered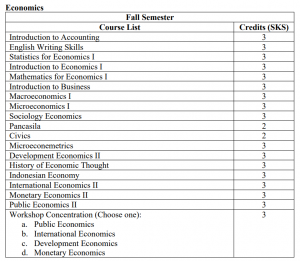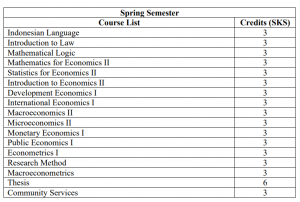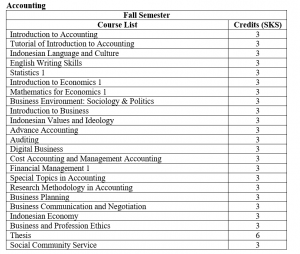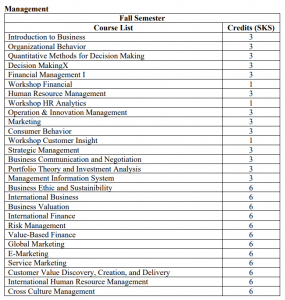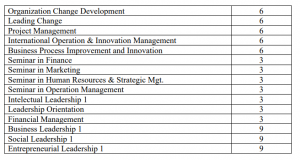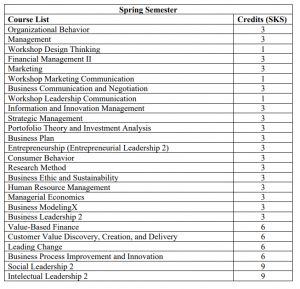 Document File : Accounting (more detail), Economics (more detail) and Management (more detail).
Mobility During Covid-19 Pandemic
Currently, the Government of the Republic of Indonesia temporarily prohibits foreigners from entering/transiting the Indonesian Territory. FEB UGM switches the learning system and international exposure program to an online learning system using various software. Therefore, students are guaranteed to have access to education from their home cities/countries.
Student Arrival
Report to university: a day after your arrival in Yogyakarta, your student buddy will assist you to report to the Office of International Affairs at FEB UGM and also the Office of International Affairs at university level to apply for KITAS.
For the residence permit documents, please follow the instructions below:
Arrival in Yogyakarta: Ensure that you arrive at least seven days before the semester starts. There will be an orientation day for International Students within those days. You may need some time to adapt to your surroundings before the lecture start.

Filling out forms to get KITAS (Residence Permit).
Submitting photograph with red background size 4cm x 6cm (5 pcs) and 3cm x 4cm (5 pcs).
Submitting your passport and white landing card.

You will receive a text message or email regarding your KITAS arrangement. You will be scheduled to have your fingerprint and photo taken at the immigration office. During the KITAS arrangement, you are not allowed to leave the country.
Once the process is finished, you will receive email of Electronic Limited Stay Permit and you may get your passport back at Office of International Affairs Universitas Gadjah Mada (OIA UGM)
Applying for VITAS
Prepared your Form & Documents: With this VITAS approval and Study permit, you can apply for the Limited Stay Visa (VITAS/Visa Ijin Tinggal Terbatas) at the Indonesian Embassy/General Consulate which you have informed us. We strongly recommend you to only leave for Indonesia using the Limited Stay Visa (VITAS/Visa Tinggal Terbatas). It is not recommended to use another visa such as Social Cultural Visit Visa (VKSB), as it is valid only for 60 days. It should be extended every month during your stay. The maximum extension is four times. If you wish to stay longer than your study period, you have to apply for a new visa. We do not recommend you to apply for VKSB as it will cost you more time & money to perform a monthly extension. It may as well distract your focus of study.
Fill out the Application form & complete the required documents: You can download the forms from Indonesian Embassy's website in your country of residence.
Submit all documents to the Embassy: After you complete all the documents and fill out the forms you can submit them to Indonesian Embassy.
VITAS: Once your VITAS application is granted, the Indonesian Embassy will issue VITAS and stick it in your passport. You may collect your passport back and arrange your departure to Indonesia.